The most effective way to vertically store and transport your drops. Our vertical sheet storage system is a great way to stay organized and safe in the workplace. Read more about the many advantages of owning a Big Steel drop rack.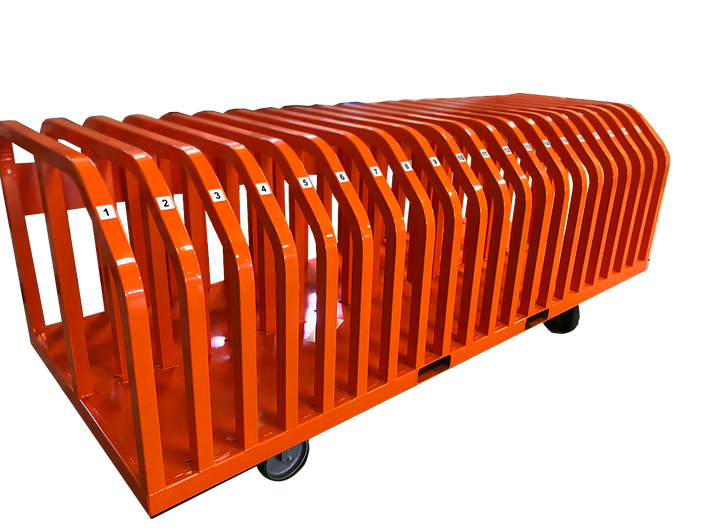 Vertical Sheet Metal Storage Systems
Think of our vertical storage system as a filing cabinet for your sheet metal. Each slot of the drop rack is labeled, so you can keep track of how many sheets you have and which material types are in a specific slot. The drop rack is equipped with heavy-duty casters, allowing you to manually move the sheet metal and plate drops throughout your facility.
If you would like a vertical sheet storage system a certain size, give us a call today, and we can customize a drop rack to your specific needs.
We recommend our vertical storage drop rack system for fabrication and manufacturing facilities with significant sheet metal storage that constantly have valuable sheet metal and plate remnants leftover from their production process. The drop rack will store the metal in a safe, high-density rack, which will help increase floor space and productivity.
At Big Steel Rack, we strive to constantly improve our products so that our customers have the highest-quality storage system possible. We value our customers and want to make sure you have the proper tools to have a successful business.
If you hate wasting valuable sheet metal and plate drops, then you should invest in a drop rack today! With the vertical sheet metal storage system, you will know exactly how much drop inventory you have, so you can better utilize your material, saving you money over time.
We look forward to the opportunity to do business with you.
All of our products are proudly Made in the United States.
Standard & custom sizes available!
Give us a call, we will work with you to build the perfect storage solution for you.